Five Element and Key Relationship
(Colours / Direction / Shape / Career)
Cafe,
Carpentry,
Catering,
Distribution,
Engineering,
Electronics,
Filming,
Growth,
Hospital,
New Technology,
Paper,
Plants,
Restaurants,
Scientific Instruments,
Technology,
Transport,
Training,
Travel

Chemical process,
Fashion,
Housewife,
Law (prosecution),
Livestock,
Marketing (sales),
Oil,
Public Relations,
Sales

Building Management,
Customer relations,
Civil engineering,
Clothing,
Construction,
Customer Relations,
Employee Relations,
Estate Agency,
Farming,
Food industry,
Games,
Pottery,
Real Estate,
Recruitment,
Sports

Accountancy,
Banking,
Coin mintage,
Entertainment,
Finance,
Hardware,
Investment,
Jewelry,
Loans,
Management Consultancy,
Mechanical Engineering,
Money,
Organisation,
Perfume,
Politics,
Railway

Advertising,
Arts,
Brewing,
Communications,
Computers,
Drinks,
Healing,
Laundry,
Literature,
Manufacturing,
Media,
Music,
Therapy
Five Element Information
Productive Cycle


Destructive Cycle


ie. A weak water person would like metal & water because it makes water stronger.

ie. A strong water person on the other hand would mean that it has too much metal and water as such element which destroy water ie Earth becomes a favourable element to Strong Water person.
Free Online Tools at www.Geomancy.Net
How to Personalise your Feng Shui
Know what element you belong to? (http://freereport.geomancy.net)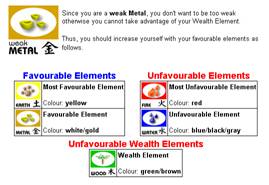 i.e. weak Water person
Favourable Element/Colour: Metal (white/gold) / Water (blue/black/gray)
Unfavourable Element/Colour: Wood (green/brown) / Earth (yellow/Orange)
Wealth Element/Colour: Fire (red)
Knowing this you can then improve your own luck by:-
Owning a house that is Water (North facing)
Choosing colours like Blue/Black/Gray (Water) element for your own personal dress/car/bedroom decor
Choosing a career or starting a business in industry favourable to your element ie Advertising career (water)
Does a House or Bedroom suits you? (Evaluate your House)

A house has to be favourable to the breadwinner (person earning most for the family) to get maximum luck from the house. i.e. North facing house is Excellent to Breadwinner. Avoid a house that is Death or Disaster.
For all other family members, they should at least stay in a bedroom which is favourable to them to get maximum luck from the room. i.e. Bedroom is in Health/Longevity sector of the house.
General Shapes and Form issue about a house:-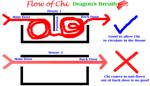 House should not have any major Qi leak, ie open door with a window directly opposite.
Fixes: Use a partition to block the qi leak from main door to the window.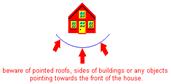 Look out from your main door or balcony. Make sure no poison arrow from the surrounding (ie. A single lamp post, corner of a building opposite you)
Fixes: Once you cannot see the threat it is no longer a threat. i.e. keep day curtain closed, or if have some plants or object in the way.

Major luck of a house comes from the external surrounding. There for a house that can receive wealth from another house are the best and most ideal houses.
To learn more about other Shapes and Form concepts you visit:-